Structure research group and clusters.
Deptartment of Education at NLA University College.
Department of Education [Pedagogikk] is organized in one research group entitled Education, Marginalization and Value. The research group is an umbrella group for a number of smaller research communities or research clusters that aim at operationalizing the themes of the umbrella group.
Education, Marginalization and Value is led by a team at the Department of Education and is responsible for two activities: The Research Forum and the Biannual Seminars / Symposia. The Research Forum is an internal monthly forum for presentations of ongoing projects by colleagues and guest researchers. The biannual seminars / symposia are in 2018 and 2019 related to two activities: 1. The Bergem Lecture that takes place every year in February and includes national and international researchers discussing current educational [pedagogical] questions. 2. Writing a co-authored and co-edited book entitled Education, Marginalization and Value, planned for publication at Fagbokforlaget in spring 2019.
The smaller and specialized research communities are organized according to the three master programs at the department: Systematic education [allmennpedagogikk], Educational Leadership, and Special and intercultural Education. Here the focus is on research projects, including PhD-projects – theoretically and practically oriented – that in different ways thematize the shared main focus of the umbrella group. These groups are led by and include the researchers at the department and researchers from other institutions in higher education in Norway and abroad.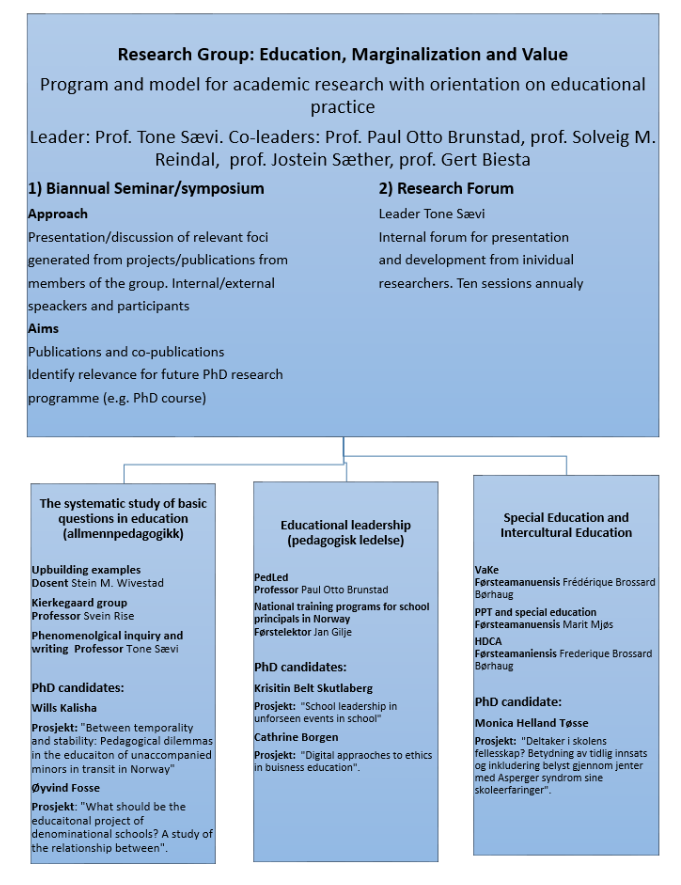 Read more about the research-groups by following the links in the menu.