Master in theology and ministry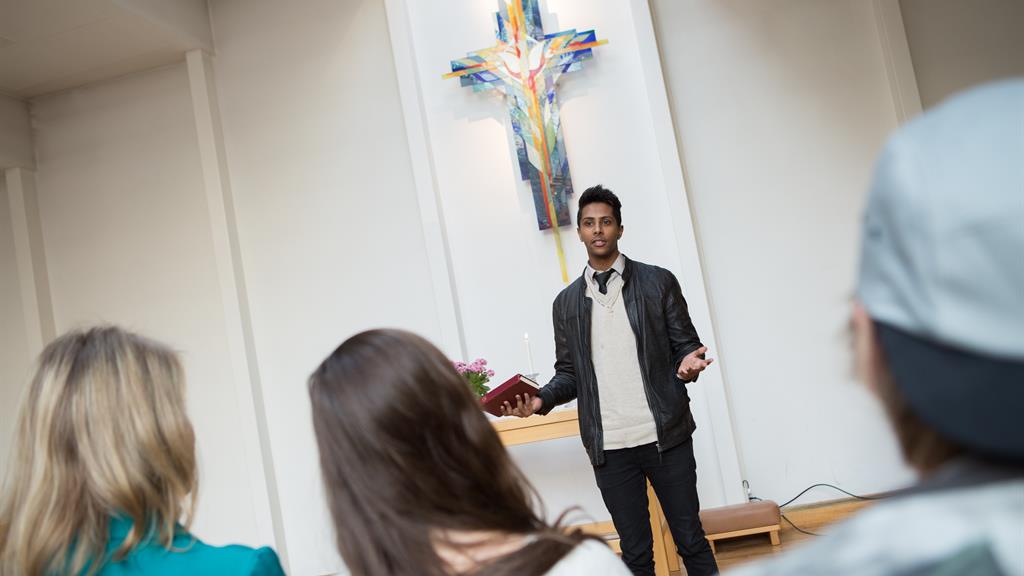 Bergen (Sandviken)

Master

120 ECTS

Exchange: 3rd semester

Start: fall
Do you want to work in leadership positions in churches or Christian organizations? Then a master's degree in theology and ministry would be a good start.
Master in Theology and Ministry
About the program
We like to think of MATM as Theological studies for Ministry in a changing context. The Master in Theology and Ministry is a natural choice for students aiming at leadership positions in churches or organizations. MATM is a 120 ECTS credit program running over two years at normal progression. Because of flexibility built into its structure, and the use of online recourses, you may live where you already live and travel to the campus in Bergen only for the two learning intensives each semester.
What do you learn?
As the condition for religion changes in secularized European societies, theological education needs to change with it. MATM seeks to equip church leaders and employees in organizations with the competencies needed to engage in the uncertainties of future ministry in a constructive and critical manner.
The academic field of theology is in development. As MATM-students you are brought to the forefront of practical theological research: whereas some speak of an empirical turn, and are dedicated to the contextual and experiential side of theology, others advocate more of a theological turn interested in the distinct spiritual and revelatory nature of theology. In any case, MATM represents a sincere willingness to bring theoretical insights to the practice field, and practical disturbance to theory.
Where can you work?
Leadership: With a MATM-degree, you are qualified for a wide variety leading positions in churches and Christian organizations.
Catechist: With the right mix of elective courses, a MATM-degree meets the qualification requirements for the office of Catechist in the Church of Norway.
Research: A MATM-degree fulfills the admission requirements of PhD-programs in Practical theology.
Course structure
The first year consists of four mandatory courses:
Thinking theologically about practice (15)
Encountering God through Scripture (15)
Spirituality and Spiritual Formation (15)
Missional Ecclesiology in light of Trinitarian Faith and Contemporary Culture (15)
The second year, autumn, you choose 30 ECTS of the following:
Youth ministry as theory and practice (15)
Leading ecclesial change and growth in contexts (15)
Kirkelig undervisning (15)
Alternative courses accepted by application (15/30)
Exchange abroad (30)
The second year, spring
Exchange opportunities
In the third semester (year two) students are encouraged to take part in an optional international exchange. Students are required to have their exchange initiatives approved through an application process. Protestant Theological University (The Netherlands) and University of Stellenbosch (South Africa) are our most relevant exchange partners for this degree.
Facts about MATM
Each semester contains
two week long learning sessions on campus in Bergen comprised of lectures, group-seminars, and case-based classes (80% attendance required)
an online learning-program stretching over eight weeks before and between the learning sessions.
Language: English is working language. Assignments can be written in English or a Nordic language.
Application
The application deadline is 1 February for international applicants. For Norwegian and EU/EEA residents the application deadline is 20 April. Next admission will open in November.
Non-EU/EEA citizens will in most cases not qualify for a residence permit to live in Norway for the whole study, since compulsory on campus presence for two weeks each semester is not defined by Norwegian authorities as requiring full time presence. Students from countries outside EU/EEA are welcome to apply for the program and stay in Norway for shorter periods on a visitor's visa.
You can get additional assistance here or by contacting MATM coordinator Gretchen Schoon Tanis (schoontanis@gmail.com) or Head of department for Theology, religion and philosophy Gunnar Innerdal (gi@nla.no).